Vol. 51 (2023), pp. 21–28 •


1.18 MB • español
RESEARCH ARTICLE
The "Chakat" from Tomb II of Yaxchilan, Chiapas, a Probable Archaeological Scepter
Rafael Fierro Padilla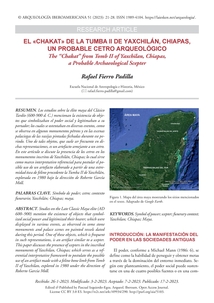 Abstract
Studies on the Late Classic Maya elite (AD 600–900) mention the existence of objects that symbolized social power and legitimized their bearer; which were displayed in various events, as observed in some stone monuments and palace scenes on painted vessels dated during this period. One of these objects, which is frequent in such representations, is an artifact similar to a scepter. This paper discusses the presence of scepters in the inscribed monuments of Yaxchilan, Chiapas; which serves as a referential interpretative framework to postulate the possible use of an artifact made with a feline bone limb from Tomb II of Yaxchilan, explored in 1980 under the direction of Roberto Garcia Moll.
Keywords
Symbol of power; scepter; funerary context; Yaxchilan; Chiapas; Maya.
Cite as
Fierro, R.
2023.
El «chakat» de la Tumba II de Yaxchilán, Chiapas, un probable cetro arqueológico.
Arqueología Iberoamericana
51: 21–28.
Other Persistent Identifiers
Publication date: February 17, 2023.