Vol. 51 (2023), pp. 29–35 •


138 KB • español
RESEARCH ARTICLE
Archaeology of Social Irreversibility and Economic Crises
Pascual Izquierdo-Egea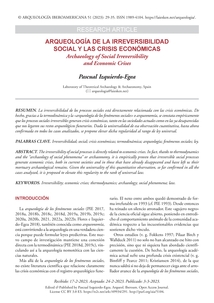 Abstract
The irreversibility of social processes is directly related to economic crises. In fact, thanks to thermodynamics and the "archaeology of social phenomena" or archaeonomy, it is empirically proven that irreversible social processes generate economic crises, both in current societies and in those that have already disappeared and have left us their mortuary archaeological remains. Given the universality of this quantitative observation, so far confirmed in all the cases analyzed, it is proposed to elevate this regularity to the rank of universal law.
Keywords
Irreversibility; economic crises; thermodynamics; archaeology; social phenomena; law.
Cite as
Izquierdo-Egea, P.
2023.
Arqueología de la irreversibilidad social y las crisis económicas.
Arqueología Iberoamericana
51: 29–35.
Other Persistent Identifiers
Publication date: March 3, 2023.