Vol. 51 (2023), pp. 36–45 •


2.03 MB • español
RESEARCH ARTICLE
Chronological and Spatial Distribution of Pre-Hispanic Ceramic Materials Reported in the Influence Area of the Upper Napo River, Upper Ecuadorian Amazonia
María Soledad Solórzano-Venegas, Henry Joel Carrillo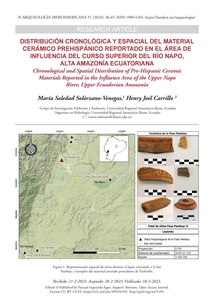 Abstract
The purpose of this paper is to perform a chronological-spatial reading of the intra- and extra-regional distribution of ceramic materials from the archaeological settlements of the upper Napo River in Ecuador, taking as a reference axis the occupations defined in the Pashimbi archaeological site; for which a review of the works carried out in the last four decades was made. The results show the close relationship between the study area and the Pastaza River basin during the second and first millennium BC, which would diminish as a result of contact with the Andean region, from the first millennium AD, due to the exchange of raw materials—such as gold or clay—rather than objects.
Keywords
Cosanga; Pambay; Pashimbi; absolute dates; Ecuadorian Andean region.
Cite as
Solórzano-Venegas, M. S.; H. J. Carrillo.
2023.
Distribución cronológica y espacial del material cerámico prehispánico reportado en el área de influencia del curso superior del río Napo, Alta Amazonía ecuatoriana.
Arqueología Iberoamericana
51: 36–45.
Other Persistent Identifiers
Publication date: March 10, 2023.