Vol. 51 (2023), pp. 57–67 •


3.27 MB • español
RESEARCH ARTICLE
X-Ray Fluorescence Study on the Origin of Some Archaeological Artifacts Made with Pre-Hispanic Obsidian from Colombia
Giovanny Sierra-Vargas, Luis Montes, Ovidio Almanza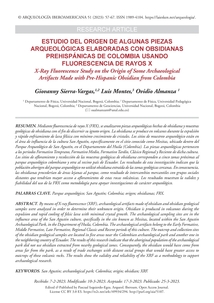 Abstract
By means of X-ray fluorescence (XRF), archaeological artifacts made of obsidian and obsidian geological samples were analyzed in order to determine their unknown origin. Obsidian is produced in volcanoes during the expulsion and rapid cooling of felsic lava with minimal crystal growth. The archaeological sampling sites are in the influence area of the San Agustin culture, specifically in the site known as Mesitas, located within the San Agustin Archaeological Park, in the Department of Huila, Colombia. The archaeological artifacts belong to the Early Formative, Middle Formative, Late Formative, Regional Classic and Recent periods of this culture. The outcrop and collection sites of the obsidian geological samples are located in five areas near the Colombian archaeological park and another one in the neighboring country of Ecuador. The results of this research indicate that the aboriginal population of the archaeological park did not use obsidian extracted from nearby geological zones. Consequently, the obsidian would have come from areas far from the park, as a result of trade exchanges with distant social groups that would have greater access to outcrops of these volcanic rocks. The results show the validity and reliability of the XRF as a methodology to support archaeological research.
Keywords
San Agustin; archaeological park; Colombia; origin; obsidian; XRF.
Cite as
Sierra-Vargas, G.; L. Montes; O. Almanza.
2023.
Estudio del origen de algunas piezas arqueológicas elaboradas con obsidianas prehispánicas de Colombia usando fluorescencia de rayos X.
Arqueología Iberoamericana
51: 57–67.
Other Persistent Identifiers
Publication date: March 25, 2023.