Vol. 51 (2023), pp. 68–77 •


1.10 MB • español
RESEARCH ARTICLE
Archaeometric Characterization of Clay Sources and Cosanga Pottery, Ecuador
María Soledad Solórzano-Venegas, Santiago Balcázar Loaiza,
Enith Vanessa Yánez Ramírez, Gabriela Loza,
Francisco Viteri Santamaría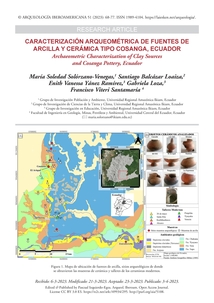 Abstract
The purpose of this research is to determine the geochemical and mineralogical similarities of both clay sources from the Tena and Archidona cantons and Cosanga archaeological objects recovered from the upper Napo River basin, Cosanga and Quijos valleys. 22 clay samples and 15 archaeological artifacts were used. The geochemical analyses were performed by atomic absorption spectroscopy (AAS) and energy dispersive X-ray (EDX), while the mineralogical analyses were done by X-ray diffraction (XRD), also using scanning electron microscope (SEM) images. The results showed that both the raw material and the objects came from a homogeneous geological environment, confirming the exchange within the study area.
Keywords
Cosanga; Ecuador; geochemistry; mineralogy; pottery; clay; regional exchange.
Cite as
Solórzano-Venegas, M. S.; S. Balcázar; E. V. Yánez; G. Loza; F. Viteri.
2023.
Caracterización arqueométrica de fuentes de arcilla y cerámica tipo Cosanga, Ecuador.
Arqueología Iberoamericana
51: 68–77.
Other Persistent Identifiers
Publication date: April 3, 2023.