Vol. 51 (2023), pp. 88–91 •


418 KB • español
RESEARCH NOTE
A New Enhanced Bibliometric Index to Measure More Objectively the Scientific Relevance of Academic Journals
Pascual Izquierdo-Egea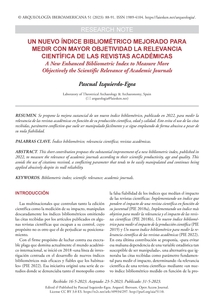 Abstract
This short contribution proposes the substantial improvement of a new bibliometric index, published in 2022, to measure the relevance of academic journals according to their scientific productivity, age and quality. This avoids the use of citations received, a conflicting parameter that tends to be easily manipulated and continues being applied abusively despite its null reliability.
Keywords
Bibliometric index; scientific relevance; academic journals.
Cite as
Izquierdo-Egea, P.
2023.
Un nuevo índice bibliométrico mejorado para medir con mayor objetividad la relevancia científica de las revistas académicas.
Arqueología Iberoamericana
51: 88–91.
Other Persistent Identifiers
Publication date: May 31, 2023.