Vol. 51 (2023), pp. 98–107 •


1.86 MB • español
RESEARCH ARTICLE
The Last Nasrid and Marinid Corachas from Al-Andalus: Architecture and Functionalities
Jesús López-Jiménez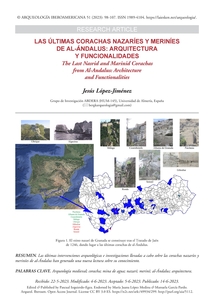 Abstract
The latest archaeological interventions and research carried out on the Nasrid and Marinid corachas from al-Andalus have generated a new reading on their knowledge.
Keywords
Medieval archaeology; corachas; water mine; Nasrid; Marinid; al-Andalus; architecture.
Cite as
López-Jiménez, J.
2023.
Las últimas corachas nazaríes y meriníes de al-Ándalus: arquitectura y funcionalidades.
Arqueología Iberoamericana
51: 98–107.
Other Persistent Identifiers
Publication date: June 14, 2023.