Vol. 51 (2023), pp. 119–125 •


2.76 MB • español
RESEARCH REPORT
Stone Exploitation in Iberian Protohistory: FTIR Analysis from the Sierra de Alcaraz, Albacete, Spain
Arturo García-López, Alberto Dorado Alejos, Jesús Moratalla Jávega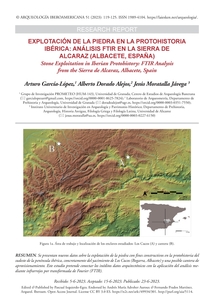 Abstract
We present new data on the exploitation of stone for construction purposes in the protohistory of the southeast of the Iberian Peninsula, specifically from the site of Los Cucos (Bogarra, Albacete) and a possible supply quarry. This study aims to connect the unpublished architectural data with the application of Fourier transform infrared analysis (FTIR).
Keywords
Protohistory; Iberian culture; ancient stone masonry; stonework.
Cite as
García-López, A.; A. Dorado; J. Moratalla.
2023.
Explotación de la piedra en la protohistoria ibérica: análisis FTIR en la sierra de Alcaraz (Albacete, España).
Arqueología Iberoamericana
51: 119–125.
Other Persistent Identifiers
Publication date: June 23, 2023.