Vol. 52 (2023), pp. 15–20 •


1.19 MB • español
RESEARCH REPORT
Avocado Cultivation in Michoacan and Archaeological Heritage: Application of LiDAR in Tingambato, Mexico
José Luis Punzo Díaz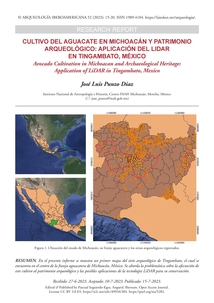 Abstract
This report shows a first map of the Tingambato archaeological site, which is located in the center of the avocado belt of Michoacan, Mexico. It addresses the problem about the impact of this crop on the archaeological heritage and the possible applications of LiDAR technology for its conservation.
Keywords
LiDAR; archaeology of western Mexico; Tarascan archaeology; conservation; landscape; avocado; Michoacan; Tingambato; Mexico.
Cite as
Punzo, J. L.
2023.
Cultivo del aguacate en Michoacán y patrimonio arqueológico: aplicación del LiDAR en Tingambato, México.
Arqueología Iberoamericana
52: 15–20.
Other Persistent Identifiers
Publication date: July 15, 2023.