Vol. 52 (2023), pp. 21–28 •


1 MB • español
REVIEW ARTICLE
A Current Approach to the Relative Chronology of the Pre-Hispanic Puruha, Ecuador
Pedro A. Carretero Poblete, Mauro Jiménez Granizo, Juan Illicachi Guzñay,
Nicol Estrada Velasteguí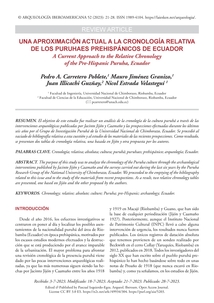 Abstract
The purpose of this study was to analyze the chronology of the Puruha culture through the archaeological interventions published by Jacinto Jijón y Caamaño and the surveys carried out during the last six years by the Puruha Research Group of the National University of Chimborazo, Ecuador. We proceeded to the emptying of the bibliography related to this issue and to the study of the materials from recent prospections. As a result, two relative chronology tables are presented, one based on Jijón and the other proposed by the authors.
Keywords
Chronology; relative; absolute; culture; Puruha; pre-Hispanic; archaeology; Ecuador.
Cite as
Carretero, P. A.; M. Jiménez; J. Illicachi; N. Estrada
2023.
Una aproximación actual a la cronología relativa de los puruhaes prehispánicos de Ecuador.
Arqueología Iberoamericana
52: 21–28.
Other Persistent Identifiers
Publication date: July 28, 2023.