Vol. 52 (2023), pp. 48–56 •


978 KB • español
RESEARCH ARTICLE
Representation of Tungiasis in Pre-Hispanic Pottery from the Pyramid of Huallamarca, Lima, Peru
Claudia Andrea Villa Robles, Ricardo Ortega-Ruiz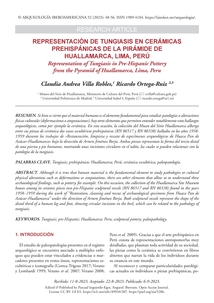 Abstract
Although it is true that human material is the fundamental element to study pathologies or cultural physical alterations such as deformations or amputations, there are other elements that allow us to understand these archaeological findings, such as pottery, for example. On this occasion, the collection of the Huallamarca Site Museum houses among its ceramic pieces two pre-Hispanic sculptural vessels (RN 86517 and RN 86538) found in the years 1958–1959 during the work of "Restoration, cleaning and rescue of archaeological specimens from Huaca Pan de Azúcar-Huallamarca" under the direction of Arturo Jiménez Borja. Both sculptural vessels represent the shape of the distal third of a human leg and foot, showing circular incisions in the heel, which can be related to the pathology of tungiasis.
Keywords
Tungiasis; pre-Hispanic; Huallamarca; Peru; sculptural pottery; paleopathology.
Cite as
Villa, C. A.; R. Ortega-Ruiz.
2023.
Representación de tungiasis en cerámicas prehispánicas de la pirámide de Huallamarca, Lima, Perú.
Arqueología Iberoamericana
52: 48–56.
Other Persistent Identifiers
Publication date: September 6, 2023.