Vol. 46 (2020), pp. 151–156 •


1.05 MB •
español
RESEARCH ADVANCE
The Construction of the Great Platform of Tzintzuntzan, Mexico: First Dates and a Proposed Construction Sequence
José Luis Punzo Díaz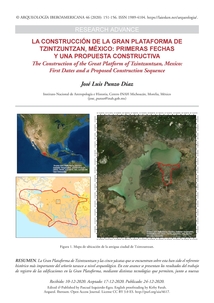 Abstract
The Great Platform of Tzintzuntzan, with the five 'yacatas' built on top, has become the most important archaeological representation of the Tarascan chiefdom. In this paper, the results of recent research at the buildings of the Great Platform are presented. Relying on various technologies and new radiocarbon dates, this paper proposes how and when the construction of this important group of buildings in the ancient city of Tzintzuntzan (Michoacan, Mexico) was carried out.
Keywords
Tarascan archaeology; Tzintzuntzan; pre-Hispanic architecture; chronology.
Cite as
Punzo Díaz, J. L. 2020.
La construcción de la Gran Plataforma de Tzintzuntzan, México: primeras fechas y una propuesta constructiva. Arqueología Iberoamericana 46: 151-156.
Other Persistent Identifiers
Publication date: December 24, 2020.