Vol. 52 (2023), pp. 98–108 •


838 KB • español
RESEARCH ARTICLE
Yuco Obsidian in the Andean Lakes and Forests of Northern Patagonia: Geochemical Characterization, Provenance and Spatiotemporal Distribution (1000–500 BP)
Alberto Enrique Pérez, Martín Giesso, Michael D. Glascock, Jacob J. Sauer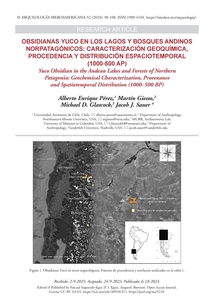 Abstract
Here we analyze the acquisition and distribution of Yuco obsidian in northern Patagonia, as well as what differentiates it from other obsidian types in the region, particularly near the numerous mountain lakes. The recovery of Yuco obsidian 260 km south of the source, yet absent in intermediate areas such as Traful and Nahuel Huapi, as well as west of the Andes, causes us to reflect on the nature of late human occupation of Patagonian forests. At the same time, we criticize the limitations of analytical techniques used to identify geochemical obsidian groups over the last three decades. In particular, we discuss the implications between destructive and non-destructive analytical methods.
Keywords
Yuco obsidian; Patagonian forest; northern Patagonia; non-destructive analysis.
Cite as
Pérez, A. E.; M. Giesso; M. D. Glascock; J. J. Sauer.
2023.
Obsidianas Yuco en los lagos y bosques andinos norpatagónicos: caracterización geoquímica, procedencia y distribución espaciotemporal (1000-500 AP).
Arqueología Iberoamericana
52: 98–108.
Other Persistent Identifiers
Publication date: October 6, 2023.