Vol. 52 (2023), pp. 109–118 •


1.31 MB • español
RESEARCH ARTICLE
Register of Heritage and Archaeological Constructions in the Puruha Community of Cacha, Riobamba, Ecuador
María Gabriela Zúñiga Rodríguez, Pedro A. Carretero Poblete,
Mauro J. Jiménez Granizo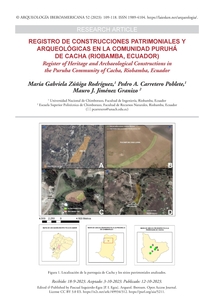 Abstract
The parish of Cacha has only two heritage sites inventoried in the INPC's SIPCE catalog. In this study, a first record of six other heritage sites is made, for which a classification as protected properties is intended. The new sites were registered and delimited by means of the surface archaeological prospection and it was verified, thanks to the archaeological ceramic material recovered, that they were occupied from the pre-Hispanic period of Regional Development to the Colonial-Republican period.
Keywords
Cacha; heritage; construction; pottery; Puruha; Riobamba; Ecuador.
Cite as
Zúñiga, M. G.; P. A. Carretero; M. J. Jiménez.
2023.
Registro de construcciones patrimoniales y arqueológicas en la comunidad puruhá de Cacha (Riobamba, Ecuador).
Arqueología Iberoamericana
52: 109–118.
Other Persistent Identifiers
Publication date: October 12, 2023.