Vol. 52 (2023), pp. 119–121 •


520 KB • español
RESEARCH NOTE
Ihuatzio, Michoacan, Mexico: New Vision of the City through a Study Based on LiDAR Technique
José Luis Punzo Díaz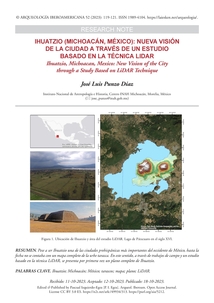 Abstract
Although Ihuatzio has been one of the most important pre-Hispanic cities in western Mexico, until now, there was no complete map of the Tarascan city. In this sense, through field work and a study based on the LiDAR technique, a complete plan of Ihuatzio is presented for the first time.
Keywords
Ihuatzio; Michoacan; Mexico; Tarascans; map; plan; LiDAR.
Cite as
Punzo, J. L.
2023.
Ihuatzio (Michoacán, México): nueva visión de la ciudad a través de un estudio basado en la técnica LiDAR.
Arqueología Iberoamericana
52: 119–121.
Other Persistent Identifiers
Publication date: October 18, 2023.