Vol. 52 (2023), pp. 122–125 •


383 KB • español
RESEARCH NOTE
A Meliquina (MQ) Obsidian Artifact at Bahía Coique, Los Ríos, Chile
Alberto Enrique Pérez, Francisco Bahamondes Muñoz, Carolina Lema,
Rodrigo Moulian Tesmer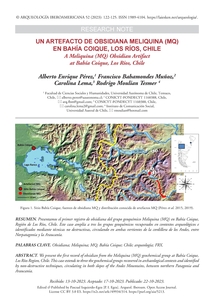 Abstract
We present the first record of obsidian from the Meliquina (MQ) geochemical group at Bahía Coique, Los Ríos Region, Chile. This case extends to three the geochemical groups recovered in archaeological contexts and identified by non-destructive techniques, circulating in both slopes of the Andes Mountains, between northern Patagonia and Araucania.
Keywords
Obsidian; Meliquina; MQ; Bahía Coique; Chile; archaeology; XRF.
Cite as
Pérez, A. E.; F. Bahamondes; C. Lema; R. Moulian.
2023.
Un artefacto de obsidiana Meliquina (MQ) en Bahía Coique, Los Ríos, Chile.
Arqueología Iberoamericana
52: 122–125.
Other Persistent Identifiers
Publication date: October 22, 2023.