Vol. 52 (2023), pp. 128–134 •


1 MB • español
RESEARCH ARTICLE
Maya Presence in the Shaft Tombs from the Bolaños Culture, Mexico: An Unusual Case
María Teresa Cabrero G.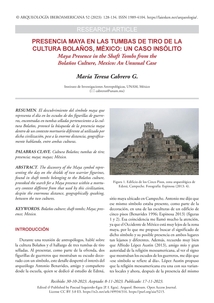 Abstract
The discovery of the Maya symbol representing the day on the shields of two warrior figurines, found in shaft tombs belonging to the Bolaños culture, provoked the search for a Maya presence within a mortuary context different from that used by this civilization, despite the enormous distance, geographically speaking, between the two cultures.
Keywords
Bolaños culture; shaft tombs; Maya; presence; Mexico.
Cite as
Cabrero, M. T.
2023.
Presencia maya en las tumbas de tiro de la cultura Bolaños, México: un caso insólito.
Arqueología Iberoamericana
52: 128–134.
Other Persistent Identifiers
Publication date: November 17, 2023.