Vol. 45 (2020), pp. 43–54 •


2.31 MB •
español
RESEARCH ARTICLE
Use of Historical Sources and Excavation and Registration Techniques in a Case of Urban Archaeology in Cordoba, Argentina
María Marschoff, Henrik B. Lindskoug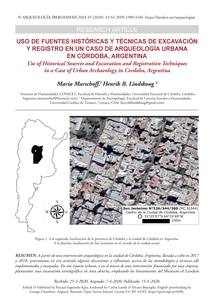 Abstract
In this article, we discuss some of the methodological approaches and techniques employed in an archaeological assessment carried out in 2017 and 2018 in the city of Cordoba, Argentina. In this urban space, and within the framework of a private company financed assessment, we implemented an open area excavation using the single context recording system developed by the Museum of London Archaeological Service (MOLAS) and the Harris Matrix to register the different contexts. The combination of material and documentary information as well as an early processing of the data generated in the field, and standardized recording methods, allowed us to employ mechanical methods of excavation in different stages of the fieldwork.
Keywords
Mechanical excavation; record standardization; historical documentation; contract archaeology.
Cite as
Marschoff, M., H. B. Lindskoug. 2020.
Uso de fuentes históricas y técnicas de excavación y registro en un caso de arqueología urbana en Córdoba, Argentina. Arqueología Iberoamericana 45: 43-54.
Other Persistent Identifiers
Publication date: April 15, 2020.