Vol. 50 (2022), pp. 87–93 •


0.99 MB • español
RESEARCH ADVANCE
Preliminary Lithic Analysis from the El Castillo Archaeological Site (Las Chapas, Chubut, Argentine Patagonia)
Verónica Schuster, Alberto E. Pérez, Gabriela I. Massaferro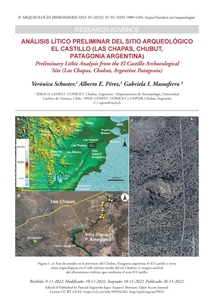 Abstract
We present the results obtained from the lithic studies of the archaeological findings from the El Castillo site (Chubut, Argentine Patagonia), which show a predominance of the use of local raw materials – mainly xylopal and chalcedony – for the manufacture of an expeditious technology composed of natural-edged and multipurpose tools, as well as for the elaboration of formatted artifacts.
Keywords
Archaeology; lithic analysis; Chubut River valley; Patagonia; Argentina.
Cite as
Schuster, V.; A. E. Pérez; G. I. Massaferro.
2022.
Análisis lítico preliminar del sitio arqueológico El Castillo (Las Chapas, Chubut, Patagonia argentina).
Arqueología Iberoamericana
50: 87-93.
Other Persistent Identifiers
Publication date: November 26, 2022.