Vol. 50 (2022), pp. 116–127 •


1.81 MB • português
RESEARCH ARTICLE
Archaeometric Investigation of Archaeological Ceramics from the Pedra do Atlas Site, Brazil
Luis Carlos Duarte Cavalcante, Juliana de Melo Leite, José Weverton Lima de Sousa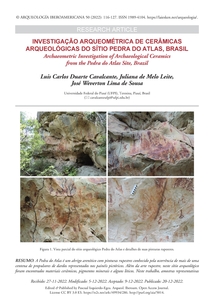 Abstract
Pedra do Atlas is a sandstone shelter with rock paintings known for the occurrence of more than a hundred spear-throwers represented in the pictorial panels. In addition to rock art, ceramic materials, mineral pigments and some lithics were found at this archaeological site. In this work, representative samples of the ceramic materials were investigated by X-ray fluorescence and X-ray diffractometry, in order to access the chemical-mineralogical composition and firing parameters of the objects produced with clay. Macroscopic examinations with the naked eye and complementary examinations with stereomicroscope and optical microscope were also performed. Archaeometric data show the occurrence of quartz, anatase, anorthite, maghemite, iron phosphate, hematite and rutile. The absence of kaolinite indicates that the firing in the production of these ceramic materials was carried out at temperatures above 500 °C, while the absence of ilmenite suggests that the firing temperature was below 1,000 °C. A radiocarbon dating of 830 ± 30 years before present was obtained for sample PA.2017.33, providing a first chronology for the Pedra do Atlas site.
Keywords
Archaeological ceramics; chemical-mineralogical composition; firing temperature; archaeometry; Pedra do Atlas; Brazil.
Cite as
Cavalcante, L. C. D.; J. M. Leite; J. W. L. Sousa.
2022.
Investigação arqueométrica de cerâmicas arqueológicas do sítio Pedra do Atlas, Brasil.
Arqueología Iberoamericana
50: 116-127.
Other Persistent Identifiers
Publication date: December 20, 2022.