Vol. 52 (2023), pp. 3–14 •


1.98 MB • español
RESEARCH ARTICLE
Conservation-Restoration of a Historic Ceramic Mural at Casa de Campo in Madrid: "Allegory of Housing", by Amadeo Gabino and Manuel Suárez Molezún
Laura de la Colina Tejeda, Marta Plaza Beltrán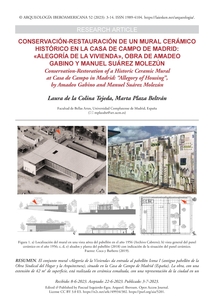 Abstract
The mural "Allegory of Housing" gives entrance to the Icona I pavilion (former pavilion of the "Obra Sindical del Hogar y la Arquitectura"), located at Casa de Campo in Madrid, Spain. This work, with a surface area of 42 m², is made of glazed ceramic, with a representation of the city at a time of urban readjustment in the 1950s of the 20th century. Its outdoor exposure, the successive remodeling suffered over time and the subsequent abandonment from the 1990s onwards made a dent in this extraordinary artistic mural. The objective of this work has been the aesthetic recovery of the whole and the stabilization of the degradation processes based on criteria of minimum intervention.
Keywords
Mural; ceramics; conservation; restoration; architecture; Casa de Campo; Madrid.
Cite as
Colina, L. de la; M. Plaza.
2023.
Conservación-restauración de un mural cerámico histórico en la Casa de Campo de Madrid: «Alegoría de la Vivienda», obra de Amadeo Gabino y Manuel Suárez Molezún.
Arqueología Iberoamericana
52: 3–14.
Other Persistent Identifiers
Publication date: July 3, 2023.