Vol. 52 (2023), pp. 37–47 •


866 KB • español
RESEARCH ARTICLE
Review of Scientific Research in Archaeology: A Bibliometric Analysis
David Vélaz Ciaurriz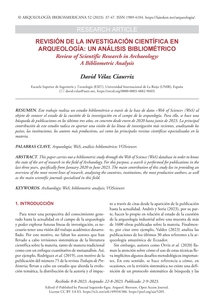 Abstract
This paper carries out a bibliometric study through the Web of Science (WoS) database in order to know the state of the art of research in the field of Archaeology. For this purpose, a search is performed for publications in the last three years, specifically from January 2020 to June 2023. The main contribution of this study lies in providing an overview of the most recent lines of research, analyzing the countries, institutions, the most productive authors, as well as the main scientific journals specialized in this field.
Keywords
Archaeology; WoS; bibliometric analysis; VOSviewer.
Cite as
Vélaz, D.
2023.
Revisión de la investigación científica en arqueología: un análisis bibliométrico.
Arqueología Iberoamericana
52: 37–47.
Other Persistent Identifiers
Publication date: September 2, 2023.