Vol. 51 (2023), pp. 46–56 •


1.91 MB • español
RESEARCH ARTICLE
Communicational Narratives on the Use and Interpretation of Archaeological Sites in Southern Ecuador
Miguel Angel Novillo Verdugo, Luis Fernando Lucero Borja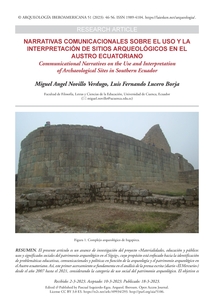 Abstract
This paper is a research advance of the project "Materialities, Education and Public: Uses and Social Meanings of the Archaeological Heritage in Sigsig". Its purpose is focused on the identification of educational, communicational and political problems in terms of archaeology and archaeological heritage in southern Ecuador. This first approach is based on the analysis of the written press ("El Mercurio" newspaper) from 2007 to 2021, considering the category of social use of the archaeological heritage. The aim is to recognize how archaeology interacts and is represented in the media under the conceptual principle of public archaeology.
Keywords
Southern Ecuador; archaeological narratives; heritage; press; public.
Cite as
Novillo, M. A.; L. F. Lucero.
2023.
Narrativas comunicacionales sobre el uso y la interpretación de sitios arqueológicos en el Austro ecuatoriano.
Arqueología Iberoamericana
51: 46–56.
Other Persistent Identifiers
Publication date: March 18, 2023.