VOLUME 24 • DECEMBER 2014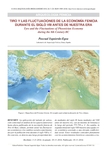 Tiro y las fluctuaciones de la economía fenicia durante el siglo VIII antes de nuestra era
Tyre and the Fluctuations of Phoenician Economy during the 8th Century BC
by Pascual Izquierdo-Egea
Publication date: 10 November 2014.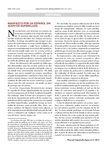 Editorial: Manifiesto por un español sin acentos superfluos

28.6 KB
Publication date: 6 November 2014.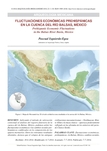 Fluctuaciones económicas prehispánicas en la cuenca del río Balsas, México
Prehispanic Economic Fluctuations in the Balsas River Basin, Mexico
by Pascual Izquierdo-Egea
Publication date: 7 July 2014.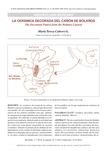 La cerámica decorada del cañón de Bolaños
The Decorated Pottery from the Bolaños Canyon
by María Teresa Cabrero G.
Publication date: 15 August 2014.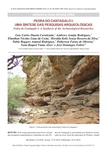 Pedra do Cantagalo I: uma síntese das pesquisas arqueológicas
Pedra do Cantagalo I: A Synthesis of the Archaeological Researches
by Luis Carlos Duarte Cavalcante, Andrews Araújo Rodrigues, Elnathan Nícolas Lima da Costa, Heralda Kelis Sousa Bezerra da Silva, Pablo Roggers Amaral Rodrigues, Petherson Farias de Oliveira, Yana Raquel Viana Alves e José Domingos Fabris
Publication date: 24 September 2014.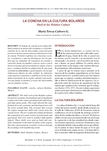 La concha en la cultura Bolaños
Shell in the Bolaños Culture
by María Teresa Cabrero G.
Publication date: 11 June 2014.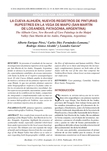 La cueva Alihuén, nuevos registros de pinturas rupestres en la vega de Maipú (San Martín de los Andes, Patagonia, Argentina)
The Alihuén Cave, New Records of Cave Paintings in the Maipú Valley (San Martín de los Andes, Patagonia, Argentina)
by Alberto Enrique Pérez, Carlos Díez Fernández-Lomana,
Rodrigo Alonso Alcalde & Leandro García
Date of publication: 30 June 2014.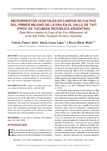 Microrrestos vegetales en campos de cultivo del primer milenio de la Era en el valle de Tafí (prov. de Tucumán, República Argentina)
Plant Micro-remains in Crops of the First Millennium AD in the Tafi Valley, Tucuman Province, Argentina
by Valeria Franco Salvi, María Laura López & Rocío María Molar
Date of publication: 24 January 2014.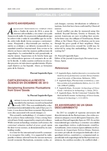 Editorials / Letters

35.4 KB


© 2009-2015 ARQUEOLOGÍA IBEROAMERICANA. ISSN 1989-4104. All Rights Reserved.
A Quarterly Journal Edited & Published by Dr. Pascual Izquierdo-Egea in Graus, Aragon.
Continuous Publication. W3C
HTML 4.01
compatible.